While I love and appreciate all the holidays, I have to say Thanksgiving is my favorite.  For me, Thanksgiving has always been a day spent with my dad.  We wake up early to prep the turkey and make the stuffing while eating some of the insane amounts of Chex mix we made during the weeks prior.  As family starts to trickle in, the day just gets better.  Nothing beats seeing everyone's smiling faces and sharing a fabulous meal, but I have to say, this year I'm thinking about which desserts to serve more than anything.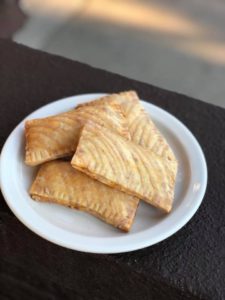 On a day focused on family, friends, love, and eating so much you have to loosen your pants, a dessert bar really seems to be the way to go.  With everything from flaky apple or pumpkin hand pies to our family favorite of lemon meringue pie piled high with toasted meringue, I don't see how it could get any better!
These flaky homemade hand pies are the perfect solution to a family divided when it comes to favorite pie flavors and are perfect for a dessert bar! They're each made by hand and start with a traditional pie crust. Then comes the best part: the filling.  With the choice of fresh honey crisp apple, pumpkin spice, blueberry or mixed berry, you really can't go wrong, especially when they're finished with a traditional powdered sugar glaze…I mean how can you resist!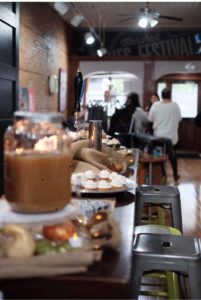 While I'm 100% here for the more traditional Thanksgiving desserts, I'm also a lover of the unconventional.  Cupcakes like churro, s'mores, pumpkin spice, and salted caramel all have that warm and comforting fall vibe but throw a touch of whimsy onto your dessert bar, especially when you get the mini version and can try them all! Clearly, I'm going to have to do the dessert bar because I really can't choose between the traditional pies, fun hand pies, and delicious cupcakes. Calories don't count if it's a holiday, right!?
If you're into these desserts and the idea of a dessert bar as much as I am, place your custom order today by contacting me at [email protected] and take away all of the stress and worry of making your holiday desserts! I hope you have a wonderful Thanksgiving and remember to wear your stretchy pants!